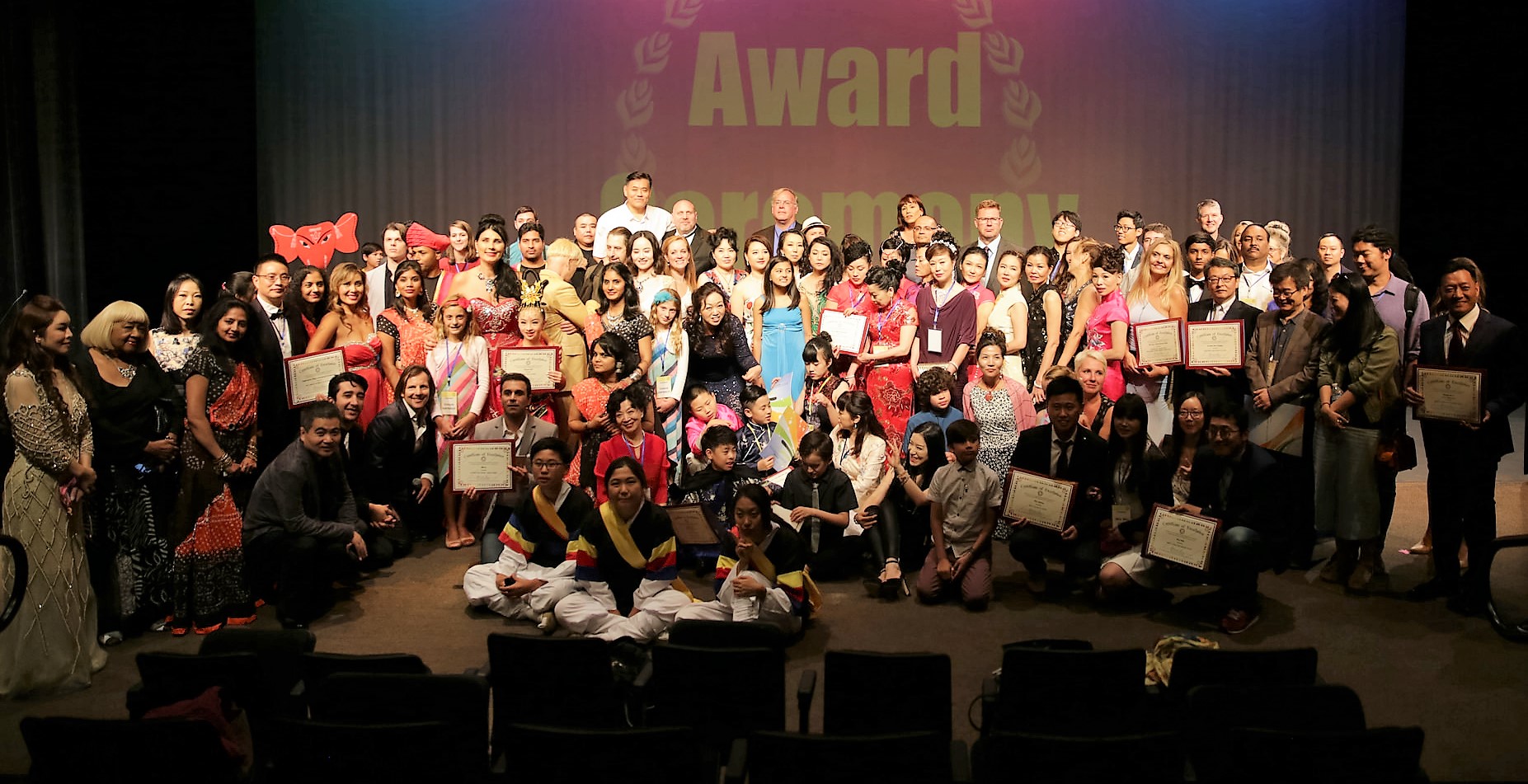 The 2016 San Diego International Kids Film Festival ( SDIKFF) completed its mission on August 28, in the American Spirit Theater at Escondido, CA. The extra long corridor covered with beautiful vines on the top to create shade, the red carpet on the paths to create the glamour, in between, those beautiful people from worldwide were walking on the red carpet with proud and honor to represent their films. At the hallway of the theater, every film makers signed their name on the signature wall to have the permanent mark on the history and interviewed by the red carpet MC to tell the world about their projects.
The award ceremony hosted by Hollywood celebrities--- David Lockhart; Prince Jordan Tyson; Tammie Starr , and the San Diego local actors-- Isabelle Hu; Davin Scott Higginbotham. The performers are cultural groups of Philippine ( "bamboo" Dance), Korean (Drum Dance )and the India (Top dance ). The solo dance performed by child actress Xinyan Shi (China). The award presenters are the film juries and the 9th San Diego International Kids' Film Festival best actress Miaomiao and the juries of the 2016 SDIKFF.
This year's awards winners detail list is below. Congratulations to all the winners . The SDIKFF is looking forward to meet you again at August 25-27, 2017 in sunny San Diego.
Grand Jury Prize - Best Feature

Nuomi's Apple (China)

Grand Jury Prize - Best Short

Milvio (USA)

Special Jury Award

Fluffy Marky - Vol 1 (Canada)

Best Youth-made Film

Fairytale (USA)

Best Kids-made Film

The Guardians of the World (Russia)

Best Animated Feature Film

Blinky Bill: The Movie (Australia)

Best Animated Short Film

Fox Tale (Korea)

Best Feature Screenplay

Aurelie Laflamme: Somewhat Grounded (Canada)

Best Short Screenplay

A Night at the Movies (USA)

Best Actor in A Leading Role

Mengnan Li - The Swinging Days (China)

Best Actress in A Leading Role

Jung Jae-yeon - Polaroid (Korea)

Best Kid Performance in Feature Film

Murilo Quirino - The Dionti Family (Brazil/UK)

Best Kid Performance in Short Film

Perry Chen Norman - The Monkey King Is In Town (USA)

Rising Star Award

Chunhao Lan, Mingxuan Li, Lixuan Han, Yuanwei Wan, Xinyan Shi

Best Musical Film

The Lottery (USA)

Best Music Score in Feature Film

Eagle-bone Flute & Saussurea Involucrata (China)

Best Music Score in Short Film

Monkey King Hero is Back (China)

Best Drama Feature Film

B12 (Iran)

Best Drama Short Film

The Autumn of Zao (France)

Best Family Feature Film

Santa's Boot Camp (USA)

Best Family Short Film

Closer Then They Appear (Russia)

Best Documentary Feature

A Little Girl's Dream (Japan)

Best Documentary Short

Chandler's Ark (USA)

Make A Difference Award

Our World the Fight with Pollution (India)

Final Draft Prize for Screenplay Competition
- Feature Screenplay

Sparkles (USA) - Christine List

Final Draft Prize for Screenplay Competition
- Short Screenplay

The Fairy & The Princess (USA) - Bruna Matsin