Monsterpalooza, the annual horror fan convention for horror-geeks, Deadites and Dread-heads, happening this weekend in Pasadena has already drawn over 12,000 attendants, and finishes off its last day, today at the Pasadena Convention Center, just one block south of 'Old Town' in Pasadena.
Second only to ComiCon in magnitude of fan power, I found myself coming face to face with disturbing nightmares from my unconscious crawling the halls of the event. Standing next to full size Demagorgon from Stranger Things, killer Orcs, the sick, dead and undying, one finds horror fans and aficionados of every type who have spent weeks and perhaps months perfecting costumes to wear all day and put on display at this abhorant affair.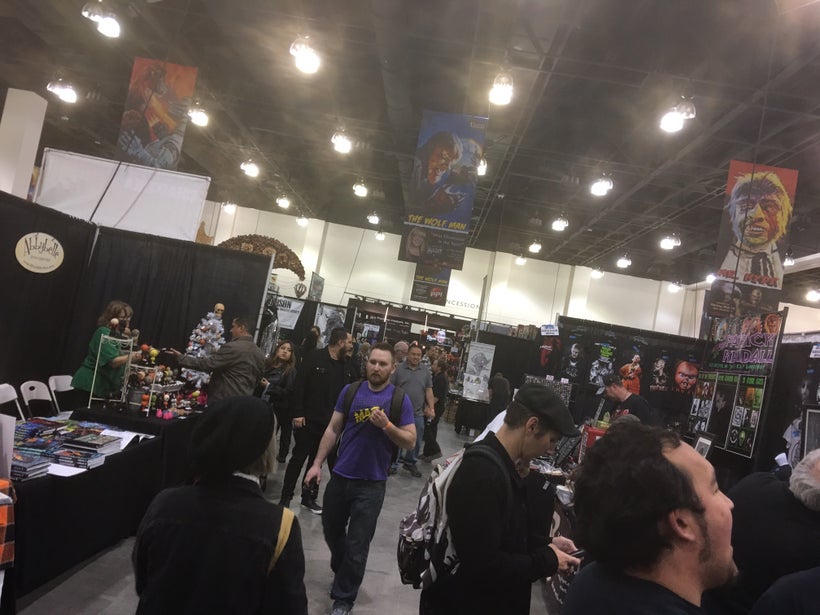 PHILIP MORTON
Monsterpalooza main exhibit hall
In the massive exhibition hall one has the feeling that 700 horror movies exploded over the walls and tables as hundreds of vendors showcase their horror-ware, from masks, to bloody limbs, to make up styles, techniques and living displays, to terrifying prosthetics, and an extraordinary display of masks and mayhem.
Tony Timpone, Programmer and moderator for the event was hoping this year would be the best edition yet.
It has far exceeded my expectations. We have a record attendance, scores of vendors and lots of cool horror Cosplay going on. It's been overwhelming! Jennifer Tilly was a hoot. She was so funny on stage and made time for all her fans. She signed and took pictures for free, a real pro. This event will be our best one yet.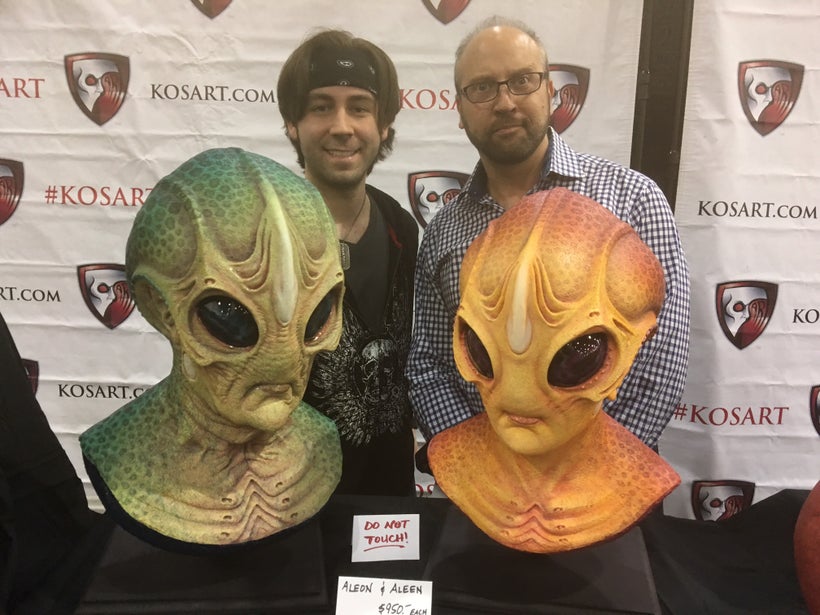 PHILIP MORTON
Phenomonimal art from the creator of Kosart, with the author.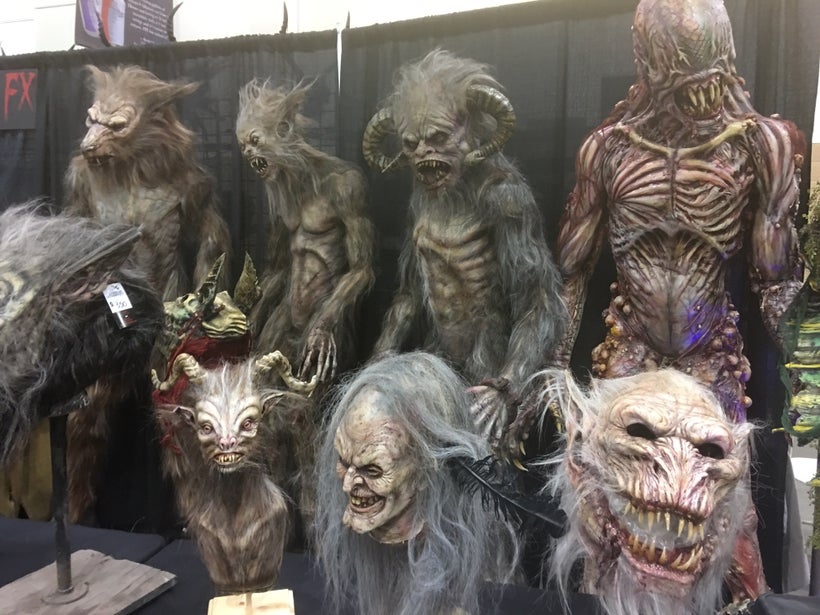 PHILIP MORTON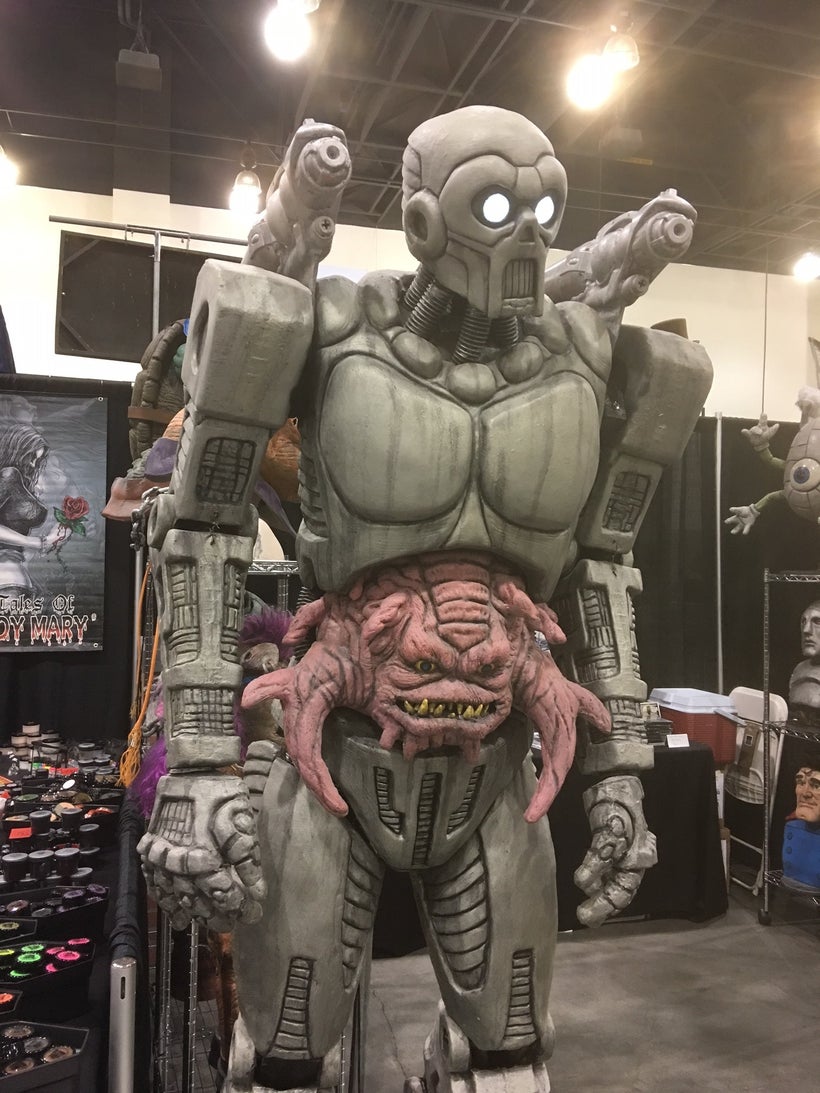 PHILIP MORTON
Solo artists, small effects companies, veteran designers and their shops as well as Hollywood Studio level production factories were in attendance.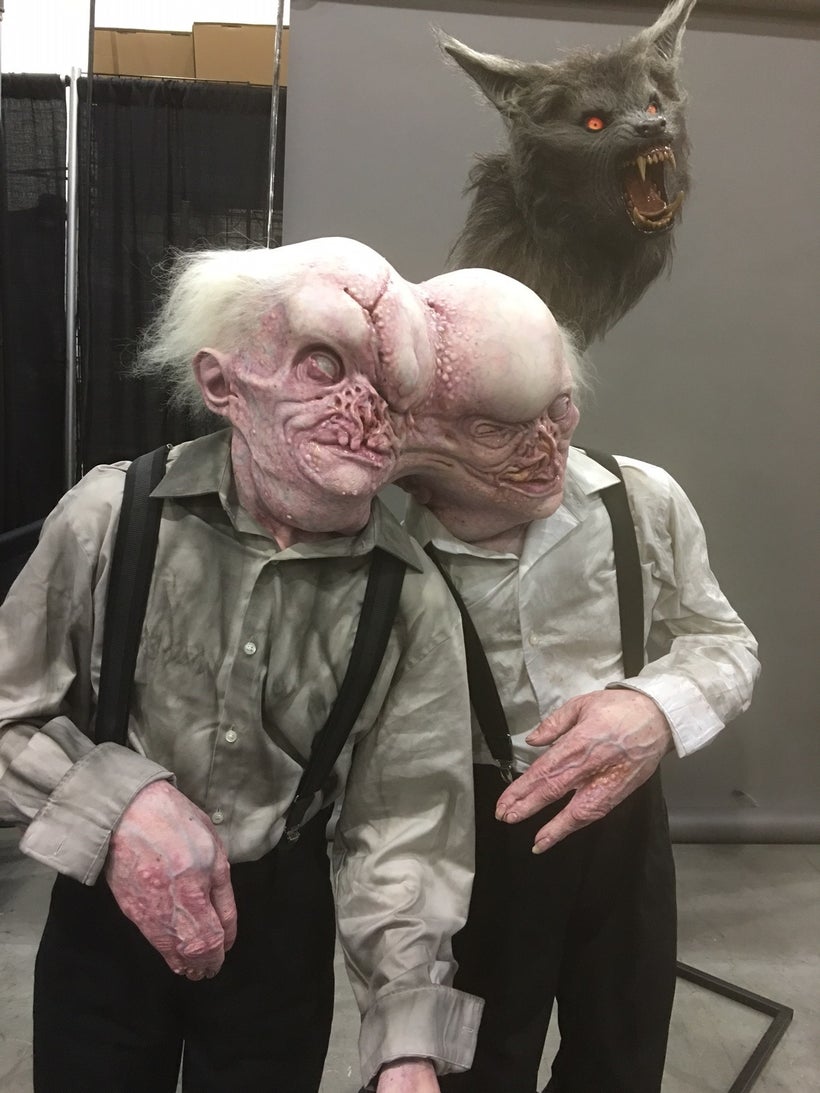 PHILIP MORTON
Terror from MageeFX studios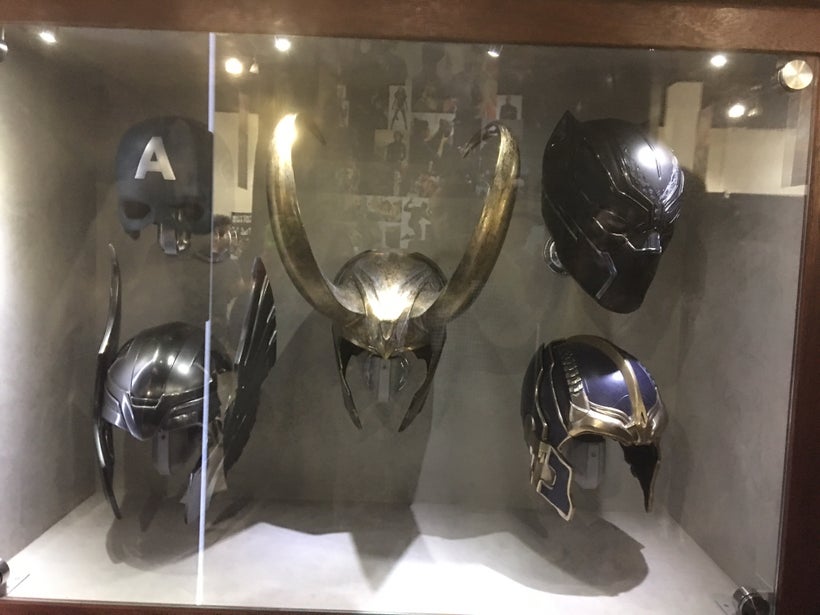 PHILIP MORTON
Ironhead Studios make the masks for THE AVENGERS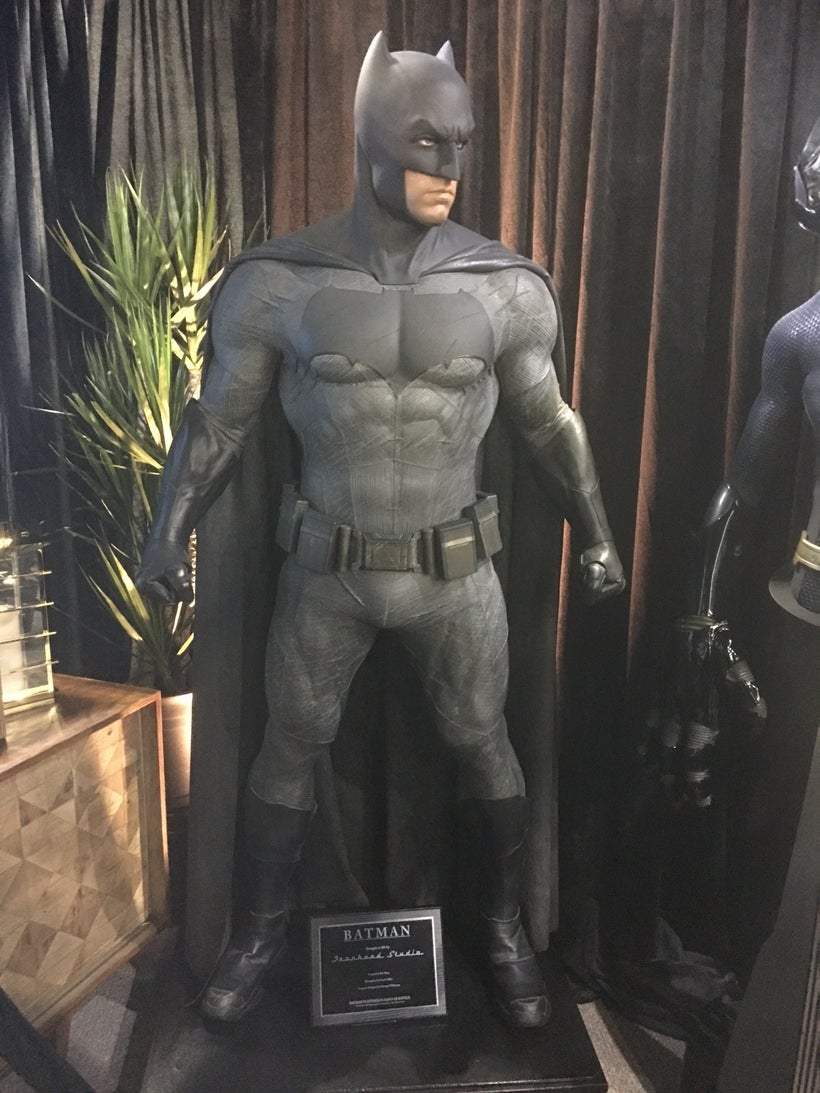 PHILILP MORTON
Ben Affleck's original Batman suit from BATMAN VS. SUPERMAN built by Ironhead Studios
Fans, as well as myself, were geeking out at seeing Loki's helmet from the Avengers, the Batman suit for Batman vs. Superman both made by Ironhead Studios for Warner Brothers, as well as unique and original monstrous creations from the likes of Imaginerick, a designer and his studio who's devised devilish creations for Gaurdians of the Galaxy, and many other artists who displayed the heads of Cthulhu, aliens, zombies and robots on their tables.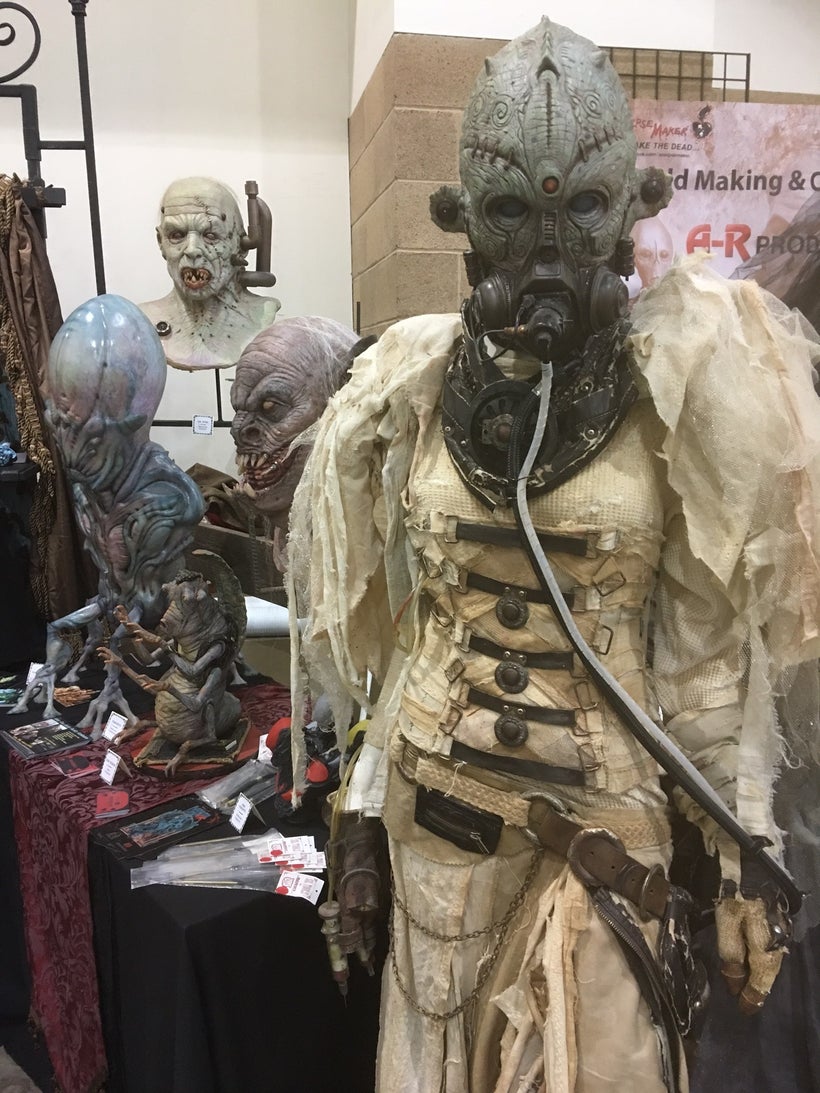 PHILIP MORTON
Stunning designs from Imagineric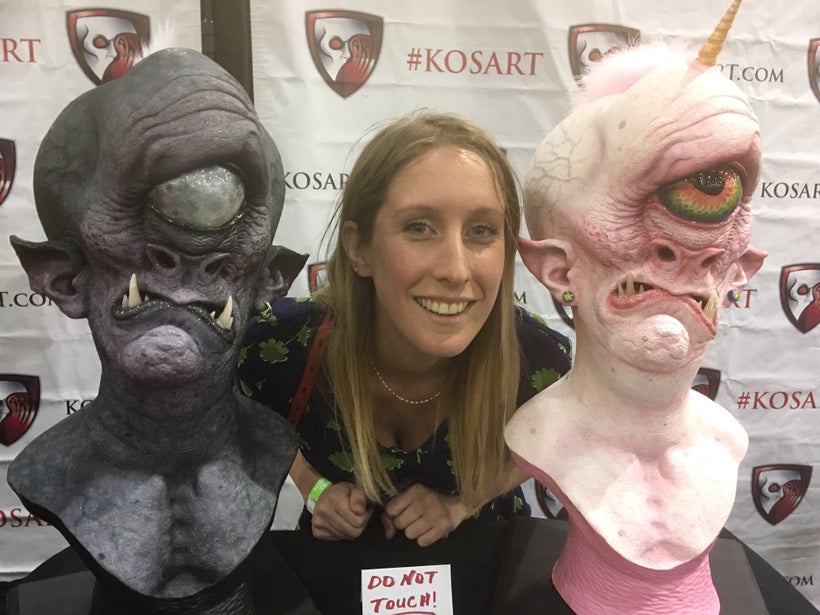 PHILIP MORTON
Sisi Cronin, publicist for Vision Films and some friends.
Fans also line up for hours to have a signed photograph and a moment of living horror with genre icons Robert England, who played 'Freddy' in Friday the 13th, as well as Linda Blair from the Excorcsit, not to mention the over sixty other famous faces from the screen including Nancy Allen (Robocop) and George Wendt (Cheers) among others. Make up susperstars Tom Savini (Dawn of the Dead, From Dusk Till Dawn) and Todd Masters (Robocop 2014, Tales from the Crypt) and many more technical geniuses were on hand to discuss their tricks of the trade during speaking events that go all day through the weekend.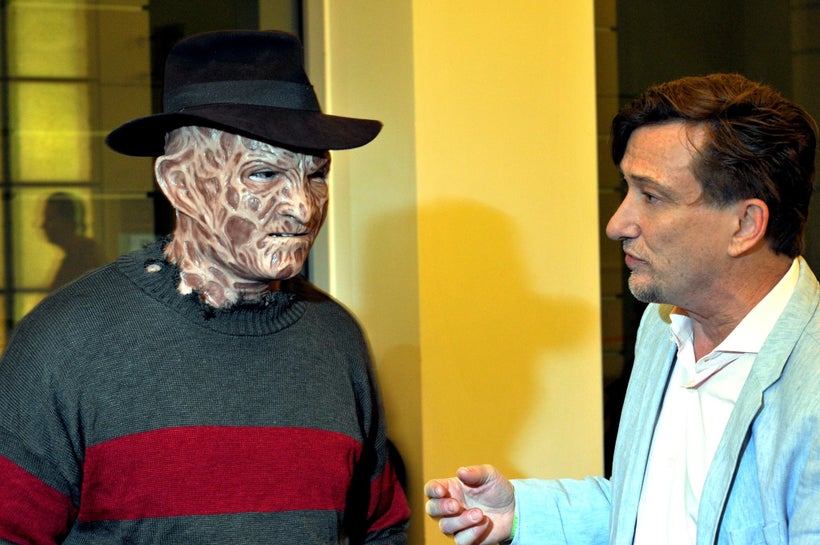 PHILIP MORTON
Director Jonathan Heap of the thriller THE UNWILLING, with Freddy 'look alike'. (Robert Englund, the original Freddy, was also on hand signing autographs in an event room)
The Event also hosts films and film makers, including Dead Awake, directed by Philip Guzman, The Cult of Chucky, from creator Don Mancini and the American Premiere of The Unwilling, a new horror film from Director Jonathan Heap (academy award nominated for his short 12:01PM). Reunions of film franchises like Friday the 13th and The Lost Boys are also scheduled throughout the weekend.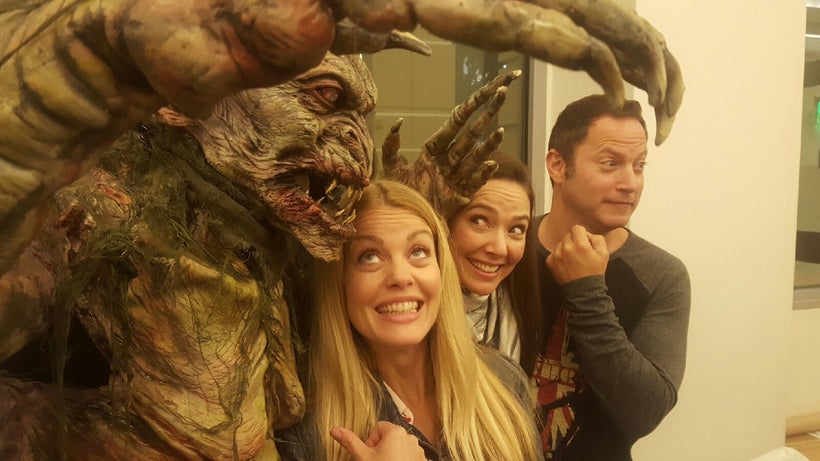 PHILIP MORTON
THE UNWILLING stars, Bree Williamson, Austin Highsmith and Producer/actor David Lipper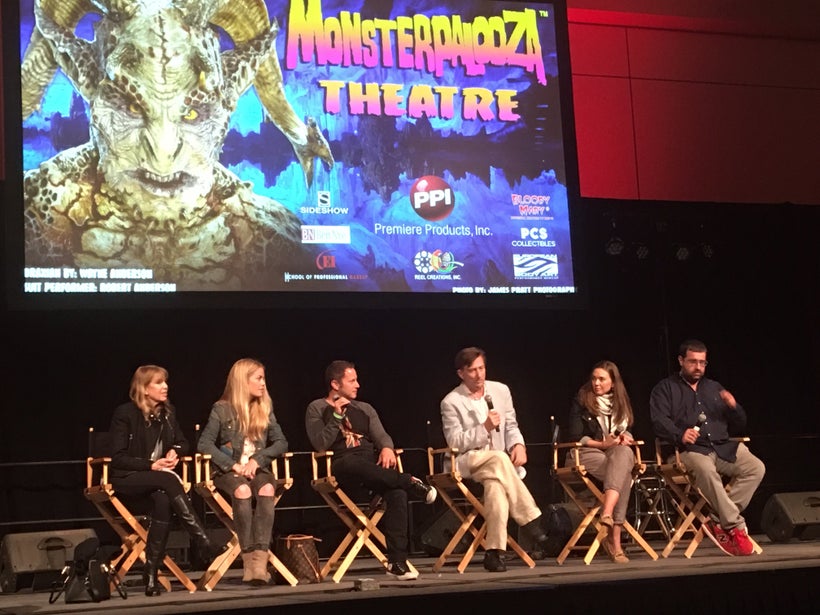 PHILIP MORTON
THE UNWILLING has their question and answer panel after their American Premier at Monsterpalooza. Producer Julia Verdin, Actors Bree Williamson, David Lipper, Director Jonathan Heap, Actress Austin Highsmith, Executive Producer Gianluca Bertoni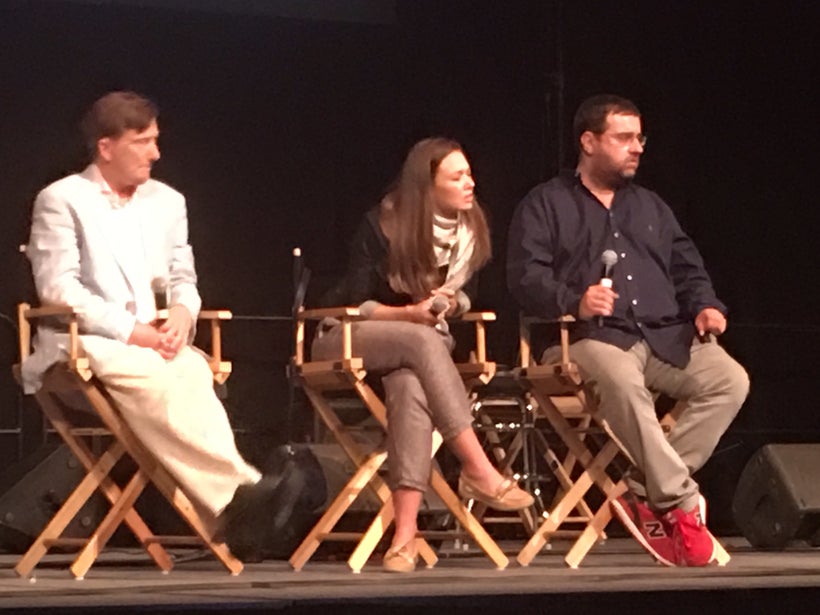 PHILIP MORTON
Gianluca Bertone, Executive Producer of THE UNWILLING (far right) discusses the high tech 4K capture of the shooting and post production of the film, making it studio level quality and the highest level of production.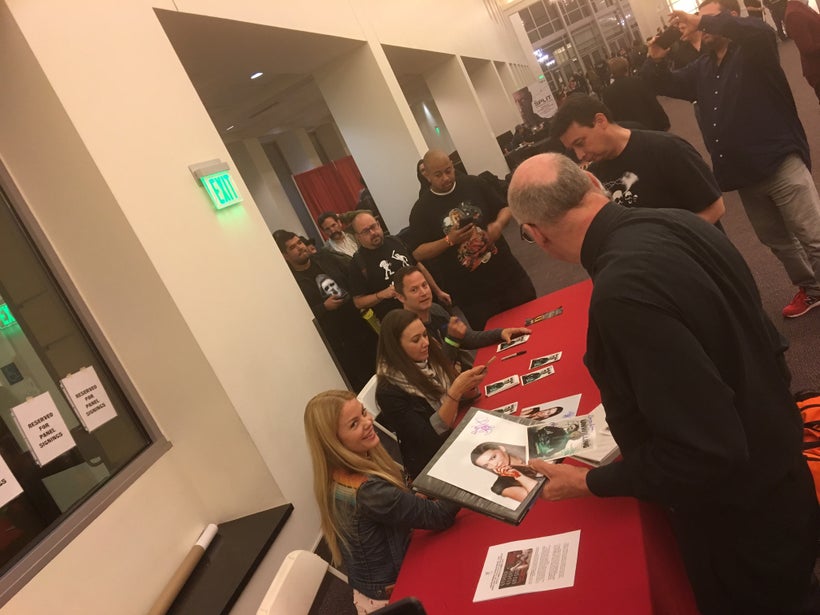 PHILIP MORTON
THE UNWILLING cast signs for fans, Bree Williamson, Austin Highsmith, David Lipper
If you need trouble sleeping at night, or want to see new levels of horror in the real world you have yet to imagine, tickets are still available as the event runs through today from 11AM-6PM.